About Us
Established in 2005, Deluxe Distribution is a fashion group with its head office and showroom in the center of Berlin and Duesseldorf. We represent and distribute a wide range of international fashion, shoe, accessory and sustainable brands throughout Germany, Austria, Switzerland and the Benelux countries.
Our Values
Our business begins with a passion for our brands and a deep understanding of our customers, where we operate as a reliable, fast and flexible hub between our brands, sales agencies and retailers. We keep up the philosophy of being a sustainable, diverse and 360° service-oriented distribution company, always with a long-term outlook on the demand and development of our markets.
Our Strategy
Offering a diversified full business structure is one of the keys to our success. From importing to warehousing, from public relations to marketing, from sales management to our customer service; this structure enables us to cover all demands of a successful entry into our markets and it creates an efficient and scalable operation.
At current stage we supply more than 800 points of sale through 15+ independent sales agencies. This needs the highest level of integrity, solid execution and outstanding service, where we continually find ways to improve our performance and business.
Insights
Core Markets:  Germany, Austria and Switzerland
Founded: 2005 in Berlin (Privately Held)
Categories: Men's & Women's RTW, Footwear, Accessoires, Sportswear
Segments: Premium / Luxury / Sustainable
Showrooms: Berlin & Düsseldorf (Own managed)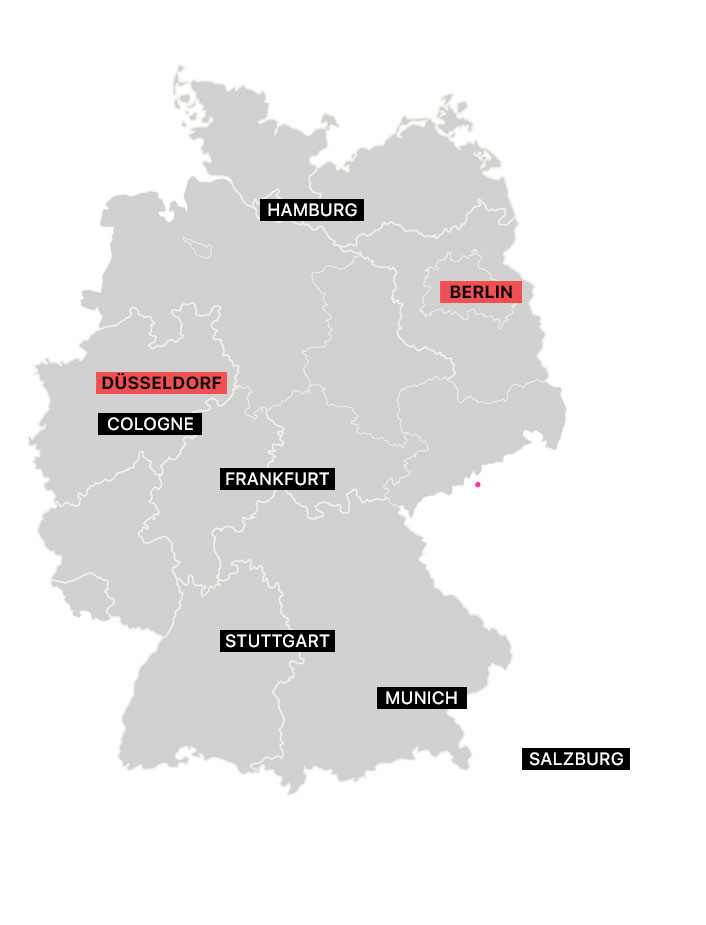 For those labels which prefer to conduct direct operations with customers, we offer a complete "Country Management" service consisting of:
Market research and evaluation of business opportunities
Integration of our sales network with showrooms
Direct acquisition of key accounts (chains, department stores, online retailers)
Agent commission management
Full customer support and back-office service
Management of returns and customer complaints
Payment follow up
Organization and consultancy on trade shows and marketing events
On extra charge: Full in-house PR service by our PR-Department
With many years of experience with labels from around the world, we offer a powerful, reliable and extensive distribution operation consisting of:
Direct import from Europe or overseas (Ex-works, FOB)
Full solvency and guaranteed payments of all goods delivered
Efficient and reliable warehousing and logistics system
Integration of our sales network with showrooms
Direct acquisition of key accounts (chains, department stores, online retailers)
Full customer support and back office service
Presentation of the brand at the most relevant trade shows
Full in-house PR service
Investment in marketing
Marketplace Integration*
* (Partner Program – A platform system for all major Onliners in DACH region)
Deluxe Distribution runs its own powerful showroom in the heart of Berlin and in Duesseldorf. Temporarily Hamburg and Munich.
In addition, we work with more than 15 of the best independent sales agents in Germany, Austria, Switzerland and the Benelux, providing showrooms with surfaces ranging from 250m² to 1.000 m² in the best locations of all major cities.
Showroom locations: Berlin* & Duesseldorf*, Sindelfingen, Munich, Salzburg, Zurich and Antwerp.
We offer an extensive in-house PR & Marketing department. Our clients (Brands) benefit from our internal very experienced PR Team, that work very closely with our sales management together to ensure a fast and efficient output to any demands from our brands. This service consists of:
We provide our brands a solid marketing & PR output, which covers:
Traditional press coverage
Trade press & communication (directly to buyers)
Development of innovative marketing strategies
PR Showroom
Product placement (Endorsement)
Media planning and evaluation
Press Days
Social media and community management
Stay in touch and get the latest news and insights of our fashion brands we distribute throughout our markets.
PITTI UOMO FLORENCE
ECOALF & ECOALF 1.0
14.06. – 17. 06. 2022
PREMIUM BERLIN
ECOALF – HOFF – RUN OF SNEAKER
07.07. – 09.07.2022
SHOWROOM DÜSSELDORF  | KAISERSWERTHER 150
ECOALF 1.0 – COSTUME NATIONAL – UNITED NUDE – UN X ISSEY MIYAKE – DRM – RUN OF – EKN FOOTWEAR – CASALL SPORTSWEAR
20.07. – 30.08.2022
Deluxe Distribution Handels GmbH & Co. KG
HEAD OFFICE + SHOWROOM
Wilhelmine-Gemberg Weg 6 (DAZ)
Aufgang D
D-10179 Berlin
Germany
SHOWROOM DÜSSELDORF
Kaiserswerther Straße 150
D-40474 Düsseldorf
CALL US (MO-FR, 10 – 17)
TEL  +49 (0)30 69 59 76 90
FAX  +49 (0)30 69 59 76 91
EMAIL info [at] deluxe-distribution.de